Port of Spain, May 20, 2011 – A delegation of climate change experts and policymakers from throughout the Caribbean region are in Samoa from 23 to 26 May to participate in a climate change adaptation and disaster risk reduction conference
.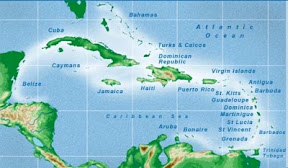 The aim of the conference is to share experiences and lessons learned in relation to climate change adaptation and disaster risk reduction among Small Island Developing States from the Caribbean, Pacific and Indian Ocean, drawing in experiences from Australia and elsewhere.
The Conference is co-hosted by Australia and the South Pacific Regional Environment Program and is funded by the Australian Government, through the Department of Climate Change and Energy Efficiency and the Australian Agency for International Development.
"Here is an example of how shared knowledge and experience in climate change adaptation and disaster risk mitigation will benefit peoples and communities from across very distant hemispheres. We anticipate that the linkages made in Samoa this week will facilitate future collaboration among regions in dealing with these challenges that face communities everywhere," says Australian High Commissioner, Philip Kentwell.
Experts from the University of the West Indies, the Caribbean Community Climate Change Centre and the Belize Red Cross are amongst a diverse line-up of presenters for the Conference. Topics under discussion include: information and awareness raising; national planning and policy frameworks; community-based response to climate change and disaster risk reduction and strategies and on-ground options.
The Conference will enable policymakers and experts from the Caribbean, Pacific and Indian Ocean to identify good practice, innovative solutions and priorities for future activities covering a range of sectors, including coastal management, water and food security, health, tourism and infrastructure.
More >>>
Location:Cayman Islands