The seas are creeping higher as the planet warms. But how high could they go? Projections for the year 2100 range from inches to several feet, or even more.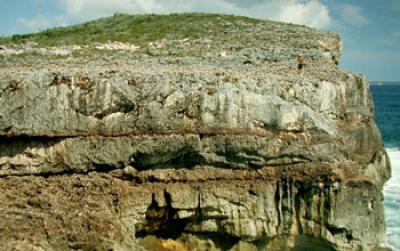 The sub-tropical islands of Bermuda and the Bahamas are two seemingly unlikely places scientists have gone looking for answers.
The cliffs and ancient reefs on Bermuda and the Bahamas have lured fossil-hunters for decades. The land on the Bahamas, for example, has a foundation of fossil coral; the stone is derived from the disintegration of age-old coral reefs and seashells.
These areas are now attracting scientists investigating global sea level rise.
By pinpointing where the shorelines stood on cliffs and coral reefs in the Bahamas and Bermuda during an extremely warm period 400,000 years ago, researchers hope to narrow the range of global sea-level projections for the future. After correcting for what they say was sinking of these islands at that time, scientists estimate that the seas rose 20 feet to 43 feet higher than today--up to a third less than previous estimates, though still a drastic change.
The results are reported in this week's issue of the journal Nature.
"Our research provides a simple explanation for high beach deposits [such as fossils in the Bahamas]," said the paper's lead author Maureen Raymo, a scientist at Columbia University's Lamont-Doherty Earth Observatory.
Average global sea-level rose eight inches since the 1880s, and is currently rising an inch per decade, driven by thermal expansion of seawater and melting of glaciers and ice sheets, including the still mostly intact ice in Greenland and West Antarctica.
In its most recent report, the Intergovernmental Panel on Climate Change estimated that the seas could rise up to two feet by 2100.
That number could go higher depending on the amount of ice melt and the quantity of greenhouse gas emissions.
The United Nations estimates a five feet sea-level rise would be enough to swamp 17 million people in low-lying Bangladesh alone.
The new study factors in the loading and unloading of ice from North America during the ice ages preceding the long-ago sea-level rise.
More